Frequent Flyer Miles Programs
One of the major perks of flying is the ability to earn points and status with frequent flyer mileage programs. If you're in the market to start earning miles and stay loyal to one airline or alliance, it's important to know about the current benefits and best options for frequent flyer programs.
Delta Airlines - SkyMiles Program
With hubs in cities like Atlanta, Detroit, Minneapolis, and Seattle, Delta Airlines is a great option for both the business and consumer traveler. In fact, Delta's SkyMiles program continues to earn high marks, with WalletHub and Huffington Post rating it the best frequent flyer program to join in 2017.
Delta operates flights to over 60 countries worldwide, and is part of the SkyTeam alliance with partners like KLM and Air France. Get a Delta SkyMiles credit card from AMEX and earn even more miles, plus bonus perks like a free checked bag and priority boarding for the primary card holder even if you haven't reached elite status yet.
Elite Tiers on Delta Airlines
Delta Airlines SkyMiles program has four tiers for the Medallion program. You reach status through a combination of either miles flown (MQMs) or segments (MQSs), and US-based members are required to reach a certain level of dollars spent (MQDs).
Silver: Earn 7 miles per US dollar. Need 25,000 MQMs or 30 MQSs and $3,000 MQDs.
Gold: 8 miles per US dollar. Need 50,000 MQMs or 60 MQSs and $6,000 MQDs.
Platinum: 9 miles per US dollar. Need 75,000 MQMs or 100 MQSs and $3,000 MQDs.
Diamond: 11 miles per US dollar. Need 125,000 MQMs or 140 MQSs and $15,000 MQDs.
Pros of the SkyMiles Program
Reasons for joining the rewards program through Delta Airlines are numerous.
Miles don't expire - even without current activity
Elite members get unlimited complimentary upgrades when available on designated routes
More than 20 airlines participate in the SkyTeam program where you can earn and use miles
If you are a non-US resident and can show proof, the MQD requirement is waived
Miles can be redeemed for premium drinks in Delta Sky Club lounges or for travel on Delta Private Jets
Can use a combination of miles plus cash
Cons of the SkyMiles Program
As with all frequent flyer programs, Delta's is not without its faults either.
Still limited seating on reward travel bookings
The amount needed to earn elite status versus miles awarded is less attractive than some other programs
Required dollar spend for US residents to reach elite status
Certain AMEX cards can grant you access to SkyTeam lounges, but not the Delta SkyMiles Gold or Platinum card
Booking partner flights and ensuring mileage awards and tier benefits may require a phone call as systems are not integrated online
So many elite members fly through main hubs, it's often impossible to get a complimentary upgrade even at Platinum and Diamond status levels
Southwest Airlines - Rapid Rewards
If you primarily fly domestically, with the occasional international jaunt that includes one of Southwest's newest destinations in Mexico or the Caribbean, the Southwest Airlines frequent flyer program is a great option.
You'll earn points for every dollar you spend on Southwest flights, along with their hotel, car rental, and retail partners online. If you get a Southwest Rapid Rewards credit card, you'll earn additional points on Southwest Airlines and from everyday purchases.
Membership Levels With Southwest Rapid Rewards
Basic: Earn 12 points per dollar on "Business Select" fares, 10 points on "Anytime" and 6 points on "Wanna Get Away" fares.
A-List: Must fly 25 flight segments or accrue 35,000 tier qualifying points within a calendar year. You'll receive 25% earnings bonus, priority boarding/seating, and expedited security at participating airports.
A-List Preferred: Must fly 50 segments or earn 70,000 tier qualifying points within the calendar year. You'll earn twice as many bonus points, all A-List benefits, and free in-flight Wi-Fi when available.
Companion Pass: Fly 100 segments or earn 110,000 qualifying points within a calendar year. This allows you to bring a companion of your choice for free, excluding fees and taxes for the entire year. You can change your companion benefit up to three times per calendar year.
Reasons to Sign Up
The frequent flyer program with Southwest Airlines offers many benefits to its members.
There are no blackout dates
Points can be earned on both hotels and flights
No seat restrictions on mileage use
Special dedicated phone list for A-List and above status
If you book a ticket and the price drops, you'll receive a rebate of points or a voucher good for future travel if you call and advise them
Rapid Rewards Shortcomings
As attractive as the Rapid Rewards program may be to some frequent flyers, it isn't for everyone.
Points and cash cannot be combined to use for a flight.
The only international destinations outside of the US are in Mexico and the Caribbean.
The number of points required can vary widely.
Points can expire after two years if you don't earn on a flight, partner, or credit card purchase.
American Airlines - AAdvantage Program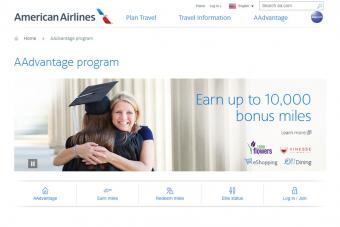 Travelers based in key American Airlines markets like Dallas, Miami, Chicago, New York City, and Los Angeles might be more interested in the AAdvantage Program.
You earn miles on all American Airlines, American Eagle, and American or American Eagle codeshare flights. Affiliated partner carriers through the oneworld alliance are also eligible for mileage accrual. Similar to other mileage programs, American Airlines has partnered with Citibank to offer the Citi AAdvantage MasterCard, which can increase your mileage accrual.
Membership Levels and Earning Potential
AAdvantage has several membership tiers and the earning potential changes based on what level you are. There are two ways to earn elite status: either a combination of miles (EQMs) plus a certain dollar spend (EQDs) or fly a certain number of segments (EQSs) plus a certain dollar spend (EQDs).
AAdvantage Members: 5 miles for every US dollar
Gold: 40% earning bonus. Need 25,000 EQMs or 30 EQSs and $3,000 EQDs.
Platinum: 60% earning bonus. Need 50,000 EQMs or 60 EQSs and $6,000 EQDs.
Platinum Pro: 80% earning bonus. Need 75,000 EQMs or 90 segments and $9,000 EQDs.
Executive Platinum: 120% bonus. Need 100,000 EQMs or 120 EQSs, and $12,000 EQDs.
The EQMs per miles flown change based on fare class. For example, a full fare or business class ticket in F or J class earns 3 EQMs per mile flown, whereas a basic economy ticket in B class only earns 0.5 EQMs per mile flown.
Elite members get additional benefits like higher baggage allowance (one free checked bag with gold, two for Platinum and Platinum Pro, and three checked bags with Executive Platinum). You also enjoy lounge access and priority boarding at Platinum and above. When it comes to upgrades, American flights within the US (including Hawaii), Canada, Mexico, the Caribbean, and Central America may be available based on availability.
AAdvantage Program Pros
The program operated by American Airlines offers several appealing features.
Over 1,000 partner companies where you can earn miles
Redeem on flights, hotels, vacations, car rentals, and even retail products
Miles can be redeemed on oneworld carriers
Elite members eligible for some upgrades
oneworld alliance members offer flights to nearly 1,000 destinations worldwide
Miles can be used for cabin upgrades
Award processing fees waived on Gold elite and above
AAdvantage Program Cons
Before you sign up for an AAdvantage membership, consider these disadvantages.
AAdvantage is now revenue-based, so miles are awarded based on spend, rather than miles flown
If you're inactive for 18 months, your credit is lost
There is a dollar spend requirement, or "EQD," on AAdvantage for earning elite status
Unlike some other programs, Gold members do not have lounge access or priority boarding
No upgrades on basic economy fares
Alaska Airlines Mileage Plan
Alaska residents likely are familiar with the perks of the Alaska Airlines Mileage Plan, including a special Club 49 that offers additional benefits for residents. If you're based in the Northwest, like Seattle or Portland, the Alaska Airlines Mileage Plan program might be worth checking out too. Even if you aren't, there may be some real perks to this mileage program. Despite no longer belonging to any one alliance, Alaska Airlines has 17 partner airlines, including American Airlines and British Airways, that allow you to earn and/or redeem miles.
The Alaska Airlines Visa Signature Card provides you with added benefits and better earning potential. Recent changes to the plan mean you can book one-way non-refundable reward travel within the continental US and Canada for 30% fewer miles than previously required.
MVP Elite Tier Structure
The Mileage Plan with Alaska Airlines is configured with three main "MVP" levels for its most valued customers.
MVP: Get a 50% bonus after 20,000 miles on qualifying flights with Alaska and Virgin America, 25,000 miles on elite-qualifying partners, or 30 flight segments.
MVP Gold: Get a 100% bonus after 40,000 miles on qualifying flights on Alaska and Virgin America, 50,000 miles on elite-qualifying partners, or 60 flight segments.
MVP Gold 75K: Get a 125% bonus after 75,000 miles on qualifying flights on Alaska and Virgin America, 90,000 miles on elite-qualifying partners, or 90 flight segments.
Alaska Airlines Program Advantages
The benefits of staying loyal to Alaska Airlines through their mileage program are plentiful.
Ability to earn and redeem on 17 partner airlines
Could see enhancements to program with purchase of Virgin America
Can use miles for upgrades
Mileage redeposit fees waived for MVP Gold and MVP Gold 75K members
Low mileage redemption amounts
Elite Leave for new parents with proof of pregnancy
Certain fare classes qualify for first class upgrades at time of booking
Two free checked bags for lowest MVP elite tier
Alaska Airlines Program Disadvantages
If your destinations are more varied and you need the flexiblity of more routes, Alaska Airlines may not be a good fit.
Fewer destinations
Not part of a big alliance
Blackout dates
Seating and availability may be limited for reward flights
April 30, 2017 was last date to earn or redeem miles on Delta flights
United Airlines - MileagePlus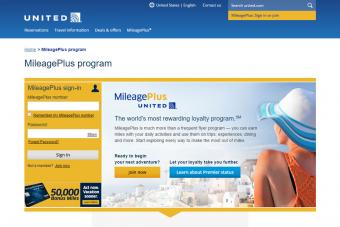 Rounding out the big carriers is United Airlines with its MileagePlus program. A member of the Star Alliance network, United Airlines works with over 35 airline partners from all over the world, including Singapore Airlines, Copa Airlines, and Japan's ANA.
With United's MileagePlus, you can earn rewards on cruise vacations, car rentals, shopping, dining, and more, in addition to the actual flights themselves. Get a United MileagePlus Visa card for additional earnings on everyday purchases.
How MileagePlus Tiers Work
United Airlines has four membership elite tiers in the MileagePlus program. Like Delta's SkyMiles program, US residents have to complete a certain dollar spend (PQD) requirement to get status.
Premier Silver: 25,000 Premier qualifying miles (PQM) or 30 Premier qualifying segments (PQS), and $3,000 US spend
Premier Gold: 50,000 PQM or 60 PQS, and $6,000 US total spend
Premier Platinum: 75,000 PQM or 90 PQS, and $9,000 US total spend
Premier 1K: 100,000 PQM or 120 PQS, and $12,000 US total spend
To be eligible for Premier level, you must fly a minimum of four paid flight segments on United and/or United Express; however, basic economy fares (N class) do not count towards that minimum.
Why Choose United Airlines MileagePlus?
Travelers who fly internationally on a frequent basis may be drawn to the MileagePlus program.
Over 35 airlines to redeem and earn on
With Star Alliance, over 1,100 destinations serviced
Rewards can be cashed in for hotels and more
Downsides of United Airlines MileagePlus
Restrictions surrounding the redemption of rewards may dissuade some travelers from joining United Airlines' program.
Limited seat availability for reward travel
Miles expire after 18 months of inactivity
Certain Star Alliance flights don't count towards your PQD qualification if the tickets are issued by another airline
Choosing the Right Frequent Flyer Program
When it comes down to choosing the best frequent flyer program, look at the cities serviced in your most common destinations. Oftentimes, living near an airline's hub is the reason travelers opt for that particular program. It's also helpful to look what programs offer status match. This means if you get elite status on one airline, another airline may do a one-time status match to get you to start flying them right away. You will have to complete the necessarily requirements that year to keep the status for the next calendar year.
And, if you are questioning whether a frequent flyer program is even worth joining if you don't fly that often, the answer is a resounding yes. When you combine a few flights with miles earned on credit card purchases, it's often enough to take a free flight somewhere one or more times per year. This is especially true if you put your regular expenditures on the card and pay it off right away. You'll be surprised at how quickly the miles can add up, which will help you earn a much-needed vacation even sooner.