The Nori iron isn't just for your clothes at home; it's a must-have travel item. Nori is a cutting-edge steam iron designed to simplify the lives of busy people. Nori can revolutionize your travel, from family vacations to business trips, in ways you wouldn't have imagined.
1. Steam and Press Your Clothes on the Go
Commercial steaming and pressing for your clothes at hotels can get expensive. But no one wants a wrinkled business suit when they have to travel for a work meeting. Nori to the rescue! Not only is Nori a ready-made clothing press, but it's also a steam iron. Therefore, it's the two-punch combo you needed for those suitcase wrinkles. Simply pull it out, plug it in, and you're ready to vanquish wrinkles on any outfit in minutes. No ironing board needed!
Use the press feature to quickly swipe creases out of your slacks before a big corporate meeting. It's also perfect to steam the wrinkles out of your bridesmaid dress that wrinkled up despite your best efforts. If any of your clothing has even the smallest of wrinkles, Nori has your back... and your front. Plus, the sleek design and elongated arms allow it to fit easily into even the tightest packed suitcase.
2. Ready Made Stain Remover
If you spill coffee on the blouse you were planning to wear for your morning meeting, all you need is Nori. In addition to removing wrinkles, this unique steam iron can help you remove stains. To get started, grab the soap, water, and a bit of white vinegar if you can find it.
Run cold water on the back of the stain to remove as much as possible.

Allow the garment to sit in a soap and water mixture for about 15 minutes.

Rinse and blot the stain with a towel.

Lay the towel on the stain.

Grab your Nori. Using the steam, run it back and forth over the towel for about 10-20 seconds.

Lift the towel, and voila!
For stubborn stains, you might want to add a ½ cup of vinegar to the soak. Additionally, if you are in a hurry or for light stains, just rinse with water and run the Nori's steam over it a few times.
3. Disinfect and Sanitize With Nori
Germs like COVID, MRSA, and influenza can be found everywhere, especially in busy hotel rooms. If you're leery about the pillows or sheets, use your Nori to help you sanitize them. The heat of your Nori doesn't just deflate wrinkles; it can also kill viruses and bacteria. In addition to killing the germs that can make you sick, you can use the Nori to knock out those bacteria that add odors. Plus, steaming is great for reducing allergens. So, you might want to consider steaming those hotel pillowcases for just a few minutes.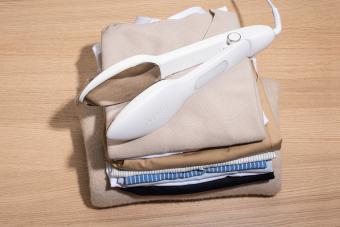 4. Save Time Packing
When you are getting ready to go on a trip, you don't have to spend your precious time elaborately packing your clothing to avoid wrinkles on your silk shirts and polyester slacks. You can just throw them in the suitcase, and Nori will get the wrinkles out of all your fabrics. With its 6 heat settings, it covers everything from silk to denim. Nori is also lightweight and compact at only 14 inches long and less than 1.5 lbs. So, you can easily throw this efficient press system into a tote bag to take to meetings, events, and even parties. Did you realize Nori was so versatile?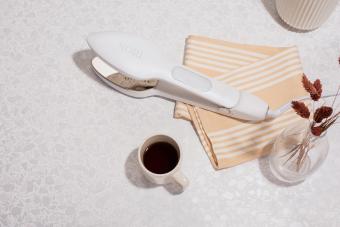 5. Refresh Your Clothing
When it comes to a long trip or carry-on luggage restrictions, you don't always have the space you need to pack every outfit. But with Nori, you don't have to. With a few pumps of the optional Nori Fabric Facial and a few swipes of steam, you can quickly eliminate that stuffy suitcase odor and quickly refreshen your outfit. Not only will the Nori Fabric Facial add a light, clean cotton smell, but the steam eliminates bacteria and odors in minutes. Therefore, you can wear that dress shirt and pants twice without washing or dry cleaning. Nori isn't only fast and efficient, it's great for your wallet as well.
Nori: More Than Just an Iron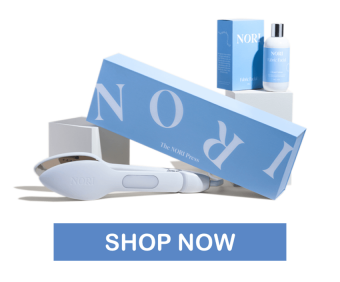 So what's Nori? Nori is a revolutionary new steam iron system. Created for working adults, stay-at-home parents, and travelers, this isn't your grandparent's iron. It's a cutting-edge cross between a flat iron, steamer, and traditional iron that saves you time and money.
Nori was created by two innovative 20-something women, using hair straightener technology to change the way you iron. The sleek design and easy-to-use interface make it perfect for anyone who wants to save time and avoid costly dry-cleaning bills. And you don't even need to leave your home to buy one. Nori is sold directly to consumers for $120 through Nori.co. Bonus tip: Use code LTK10 for 10% off your Nori iron!
Steam Your Way Around the World
No one wants to travel with a steam iron, iron, and ironing board. Therefore, you typically choose to spend the money on hotel laundering. However, with Nori, you don't have to. From pressing your clothes to sanitizing your pillows to refreshing your clothes, this revolutionary iron is a game-changer for travelers. And, its sleek design fits seamlessly into your suitcase.
Are you ready to travel? Grab your Nori and go!