Great Gifts for Adventurers
Shopping for someone who loves to travel can be a lot of fun. There are plenty of great items available designed with the interests of frequent travelers in mind, ranging from to practical, must-have items to super-fun niceties! These out of this world gift ideas are organized by price point, ranging from highest to lowest.
To learn more about each item, click on the "More Details" link above each image throughout the gallery.
1. Canon PowerShot SX720 HS
More Details"
If the frequent traveler for whom you're shopping visits photo-worthy destinations too beautiful to be limited to cell phone snapshots, consider gifting her with Canon PowerShot SX720 HS camera. This long zoom (40X), 20.3 mega-pixel camera is ideally suited for frequent travelers, as it is small in size (just 4.32 wide X 2.51 tall X 1.41 in. deep) but has powerful photo and HD video (1080p) capabilities.
The ePHOTOzine.com website describes this camera as "ideal for travel photography" due to the "whopping 40x zoom in its tiny body." You'd be hard pressed to find a more suitable travel camera, as this one is so easy to pack and transport, yet offers so much in terms of image quality. Any frequent traveler who wants to record high quality memories of her adventures is sure to be overjoyed to receive this great camera as a gift.
Price: Just under $380
2. Magellan MiVue 420 DashCam
More Details"
If you're shopping for someone who takes frequent road trips, the Magellan MiVue 420 DashCam is an awesome gift idea. This dashboard camera is both super-cool and practical! It's an ultra-modern tech device that happens to be designed to improve safety and security while on the road. Its high definition video camera is intended to be mounted on a vehicle's dashboard, from which perch it records both audio and video via a wide angle lens with GPS tracking and a date/time stamp.
Because the unit is continually recording what's going on outside the dashboard, it provides footage of all kinds of incidents that might occur during road based travel, whether the car is in motion or parked somewhere. It provides a good record of things that often happen so quickly that it's difficult to process them in real time. Hopefully the recipient won't experience an accident or problem with vandalism or road rage, but she'll be glad you thought of this gift if it ever does happen.
Price: Just under $180
3. Evolution Cool Travel Pillow
More Details"
While most frequent travelers probably already own at least one travel pillow, chances are they don't have one like this! The Evolution Cool? travel pillow from Cabeau is not like any other travel pillow you're likely to find. Reviewers on Amazon brag about its quality construction and outstanding comfort, even for really long flights.
Unlike the typical U-shaped travel pillow that leaves a gap under the chin, this one cinches closed in front to provide 360 degree support for your neck and head. It is crafted from memory foam and has cooling vents most of the way around for maximum comfort. It comes with its own travel case, and a pair of earplugs (made of memory foam) are included.
Price: Just under $60
4. eBags Packing Cubes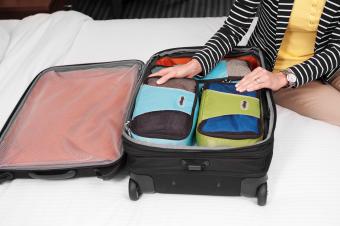 More Details"
Available in a variety of sizes, colors and set combinations, these lightweight yet extremely sturdy cubes make easy work of sorting and storing various types of items for stress-free travel, regardless of whether you're packing a big suitcase, carry-on bag or even a backpack. They're even machine washable, so they can be used time and time again with no worries.
Travel enthusiasts are sure to adore anything that will help them keep their gear organized, and that's exactly what they'll be able to do when you gift them with a set of eBags Packing Cubes. These colorful cubes are as practical for frequent travelers as they are fun-looking. TravelBagQuest.com lists them among the "best packing cubes for travel 2016-2017" for good reason!
Price: Around $50 for a set of six; various other set options available
5. Roku Streaming Stick
More Details"
Though it's definitely a 'first world problem,' missing out on your favorite TV shows when you're traveling can be a bit of a drag. You can save the frequent travelers on your shopping list from what TheVerge.com describes as the "Pay-Per-View nightmare" of hotel room entertainment by gifting them with a Roku Streaming Stick.
This tiny device is easy to pack and transport and, thanks to its "Hotel & Dorm Connect" functionality, is easy to use via hotel Wi-Fi when plugged in to the in-room TV's HDMI port. It provides a super-simple and streamlined way for travelers to access all their streaming content (Netflix, Hulu, Amazon Prime, cable service, specific channels, etc.) on any hotel TV. TheVerge.com describes this device as "the ultimate portable set-top box" for travelers.
Price: Just under $50
6. Rowenta Compact Steam Iron
More Details"
Traveling can wreak havoc on a person's wardrobe, leading to deep wrinkles that can only be eliminated by a really high quality steam iron - and that's something that you can't always count on finding in hotel rooms or when staying over with friends or relatives. That's why Rowenta's Compact Steam Iron is a great gift choice for frequent travelers, particularly those who take to the road for business or enjoy leisure travel that requires dressing up, such as cruise travel or attending gala events.
This small steam iron is right-sized for travel, taking up no more room than a single shoe. Despite its small size, it packs a powerful punch when it comes to doing away with travel-related wrinkles in all kinds of apparel, even those made of the most delicate fabrics. ConsumerSearch.com describes it as "the best choice" for people who "want a small, yet full-featured iron." If the travel enthusiast for whom you are shopping is concerned with always looking her best while on-the-go, this is a terrific gift option!
Price: Just under $40
7. TrackR bravo
More Details"
If you're shopping for a frequent traveler who sometimes has trouble keeping up with her belongings, TrackR bravo is a terrific gift idea. This tiny tech gadget is a Bluetooth device that can be attached to your luggage and other items (like your laptop or tablet case, purse, wallet, etc.) and paired with a smartphone app to help make sure that they don't get lost or left behind during travel. Basically, you'll be gifting the recipient with a tool for peace of mind while on-the-go!
If you can't immediately put your hands on an item that has a TrackR tag attached, simply use the app via your phone to ping it or locate the last place you had the item within Bluetooth range. You can even anonymously crowdsource your search via other open nearby TrackR apps. It can help relieve worry over potential lost luggage as you can use the app to verify that your luggage was loaded on the plane once you board. Unlike most similar items, TrackR has a replaceable battery, a key feature that helps make it a terrific gift choice!
Price: Just under $30 for one (buy three, get two free; buy four, get six free)
8. Ventev Global Charging Hub
More Details"
Charging your devices on-the-go can be a bit of a challenge, particularly for people who travel internationally. Plugs that work in the U.S., for example, don't work in many other parts of the world. That's where the Global Charging Hub from Ventev comes in. This small, lightweight adapter is among the most versatile available. It can be used as a three-prong outlet, and also has four additional prong configurations making it suitable for use in more than 150 countries around the globe. Additionally, it has two USB ports so you can charge two devices simultaneously. Any world traveler will love to receive this handy gadget as a gift!
Price: Around $25
9. Slingpack Compact Backpack
More Details"
Big backpacks can be great for maxing out what you can carry on a plane or storing enough gear for a quick getaway, but they're not really the best choice for carrying smaller quantities of gear for day-to-day sightseeing. That's where the Slingpack Compact Backpack from Cabeau comes in! This small but roomy daypack is perfect for those travel situations where a purse isn't quite right but you don't need a full-size backpack.
This smallish (10" wide X 13" tall X 7" deep) single-strap sling-style pack is a perfect size for carrying the kind of gear you might need while spending a day touring museums, visiting theme parks, exploring historic attractions, day hiking, etc. without the weight and bulk of a full-size backpack. Plus, it's easy to pack in between destinations, as it can be folded down and zipped inside its own front pocket to take up very little luggage space. It has two primary pockets that can hold things like your wallet, cell phone, camera, binoculars and more, as well as outside mesh pockets for water bottles.
Price: Just under $20
10. Train Reaction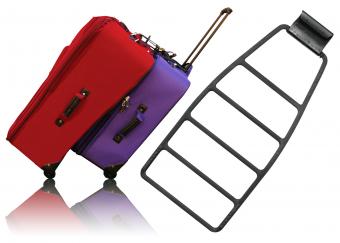 More Details"
If you're shopping for a frequent traveler who is often on-the-go with several pieces of luggage, you can make her life quite a bit easier with a Train Reaction luggage stabilizing device. This very affordable gift idea makes it really easy for any traveler to transport two pieces of similarly sized wheeled luggage at the same time, without having to pull a piece in both hands. How? It links two rolling suitcases to each other at the top, in essence, as stated on TrazeeTravel.com, "letting the bags link together like a train."
This is an unusual and cool gift, as it's the only item of its type, and it is also really practical because of the huge impact it can have with regards to simplifying the process of maneuvering luggage in and out of airports, parking lots, hotels, train stations and more. This is particularly great for people who travel with kids, though it's a great gift idea for anyone who travels with more than one suitcase.
Price: Just under $15; two for just under $20
Shopping for Travel Lovers
These are just a few of the many great gift ideas for travel enthusiasts! From travel handbags to plug converters and adapters, there are plenty of other items that people who take to the roads or skies often will enjoy receiving. You might even want to consider giving travel-related gift cards to help offset the cost of the recipient's next adventure. Who knows? Maybe you'll get bitten with the travel bug yourself while checking out these great gift ideas!
Note: The writer received review items for some of the products featured in this article. All items were independently selected for inclusion at the sole discretion of the author.