Planning an Alaska Vacation
With 586,412 square miles, it's easy to see why Alaska, the largest state in the United States, is known as "The Last Frontier." Breathtaking scenery and outdoor recreation, wildlife sightings, and world-class museums all combine to make Alaska a must-see destination.
Planning Your Alaskan Adventure
The best time to visit Alaska depends on what you wish to see, and how much cold, snow and darkness you can handle. Many local attractions are located in the various towns or within walking distance of them. However, if you want to explore beyond downtown, you should rent a car. When planning your trip, keep in mind that many attractions are closed during the off-season, which is typically the end of September through mid-May.
Reaching Alaska
Much of Alaska is accessible only by air or sea, which means your visit will likely include travel by air or cruise ship, or a combination of both. There are direct flights from many cities in the Lower 48 states to Anchorage, Juneau and Fairbanks, although most non-stops originate from Seattle or Portland.
It is possible to drive in to parts of Southcentral Alaska and the Interior via the Alcan Highway, if you're willing to drive up through Canada. From Anchorage, you can also drive to Denali National Park, the Kenai Peninsula, and Fairbanks, which is approximately six hours away.
Alaska Marine Highway operates a ferry service among Southeastern Alaskan communities, as well as some stops in Southcentral Alaska.
Spring and Summer Travel
The most popular time to visit Alaska is from late May through late September. Summer temperatures vary widely throughout the state, but during these months you can generally expect to enjoy mild weather, with average highs between 60 F to 80 F, depending on which part of the state you visit.
As the summer solstice approaches, plan for steadily increasing daylight hours. You won't necessarily enjoy 24 hours of full daylight, but average daylight hours range from 18 - 24 hours, depending on how far north you are.
Fall and Winter Travel
If you have your sights set on certain events, a winter trip is your only option.
Visiting Anchorage
Alaska's largest and most populated city, Anchorage blends a big-city feel with rugged Alaskan charm. From outdoor pursuits to world-class museums that explore Alaska's history and culture, Anchorage has something for everyone.
Outdoor Activities
Wilderness literally surrounds Anchorage. Dozens of parks and trails and 122 miles of paved bike paths provide endless opportunities for enjoying the great outdoors, and you'll find bike rentals and tours throughout town.
Cultural Activities
Alaskans love being Alaskan, and the city has many museums that celebrate the state's history, as well as the cultures of the Native Alaskan tribes. Many museums are within walking distance of downtown. Those that aren't provide free shuttle service from the downtown Visitor's Center and many hotels.
Fairbanks Highlights
Gateway to Alaska's Interior, Fairbanks enjoys long summer daylight hours and warm temperatures. And for a relatively small town, it has plenty of cultural, artistic, and outdoor activities.
Outdoor Activities
Since Fairbanks enjoys some of the longest daylight hours in the state, the city offers an abundance of opportunities to get outdoors and enjoy the midnight sun.
Cultural Activities
Fairbanks has a variety of museums and activities that highlight the city's rich history.
Visiting Southeast Alaska
If you want to visit the cities that make up Southeast Alaska, your best bet is to do it by cruise ship. That's because the communities that comprise the Inside Passage are only accessible by air or sea; no roads connect any of them except Haines and Skagway. These two towns are connected by the Haines and Alaska Highways, which take you through Canada's Yukon province.
Ketchikan
Ketchikan is the first stop on any cruise into Alaska. Known as "The Salmon Capitol of the World," it's steeped in Native culture and has the small-town, old-world charm visitors expect from Alaska.
Juneau
Alaska's state capital, Juneau is nestled amongst the mountains of the Tongass National Forest. It has a temperate climate. Since it's situated in the middle of a rainforest, be sure to remember your umbrella and rain poncho because the city has measurable rainfall 222 days a year.
Skagway
During the gold rush boom at the turn of the 20th century, prospectors flooded Skagway to try to earn a fortune. More than a century later, Skagway retains its small town charm. Visitors can explore artifacts from the town's gold rush times at one of several museums.
Highlights of the Kenai Peninsula
Known as "Alaska's playground," the Kenai Peninsula, located on Alaska's southwestern edge, is home to some of the state's best fishing. It also offers a prime opportunity to see migrating whales, sea lions, and other wildlife. The Kenai Peninsula is accessible from Anchorage by car.
Seward
Located on Resurrection Bay, Seward is one of Alaska's oldest communities and is known for its beautiful scenery and world-class halibut and salmon fishing.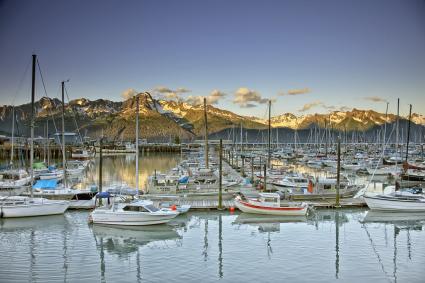 Kenai
Kenai is an outdoor paradise that offers ample opportunities for fishing, wildlife viewing, and hiking among the picturesque setting of Cook Inlet and the Kenai River.
Homer
Homer, which lies on the shores of Kachemack Bay, is a town that's as serious about the arts as it is about fishing. Singer-songwriter Jewel actually hails from Homer. The Homer Council on the Arts hosts numerous public art events throughout the year, including plays, concerts, and crafts fairs, while galleries display the work of local artists and crafters. Halibut and salmon fishing are popular year-round activities, and Homer even hosts a Winter King Salmon Tournament every March.
Visiting Denali National Park
Denali, also known as Mount McKinley, is a destination unto itself. Even for visitors who choose not to make the 20,320-foot trek up North America's highest peak, a trip to Denali National Park promises jaw-dropping vistas and a larger variety of wildlife sightings than anywhere else.
From late-May through mid-September, visitors can drive or take a tour bus through the 92-mile park loop. If you wish to climb the mountain, shoot for any time from May through early June; any later and you run the risk of falling into a crevasse or being swept up in an avalanche. The majority of climbers depart from Talkeetna, a tiny town said to be the inspiration for the television show "Northern Exposure."
The Adventure of a Lifetime
Alaska is truly a state like no other. You could make a dozen trips and still see something new on every visit. No matter where you choose to go, or what you do once you get there, you're guaranteed to have the adventure of a lifetime.