Adventure travel is an increasingly popular form of tourism that encourages travelers to leave the comforts of their normal environment and explore beyond the beaten path. The Adventure Travel Development Index defines adventure travel as trips that include at least two of the following elements: physical activity, interaction with nature, and interaction with culture. This form of tourism can also encompass other types of travel, such as extreme sports vacations, travel to extreme destinations, and eco-tourism. With so many adventure travel destinations and options available, there's something to suit nearly any traveler's taste and budget.
Four North American Adventure Travel Ideas
A list of popular international destinations may be the first thing that springs to mind when adventure travel is mentioned, but U.S.-based travelers can also find a wide variety of thrilling adventure travel packages closer to home.
1. Grand Canyon Whitewater Rafting
Grand Canyon National Park is one of the most popular tourist destinations in the United States, boasting as many as five million visitors each year, according to the National Park Foundation. A whitewater rafting tour of the Grand Canyon is an exhilarating way to explore the well-known natural attraction. Available in single- or multi-day packages, Grand Canyon whitewater rafting tours guide travelers down an up-to-60-mile stretch of the Colorado River, through class three and class four rapids. Canyon Tours offers Grand Canyon whitewater rafting packages.
2. Paleontology Expeditions
Adventure travel doesn't necessarily have to include an element of danger or exclude children; dinosaur fossil dig tours and programs are fun, educational, and safe for adults and young dinosaur enthusiasts alike. Archaeological sites throughout the American northwest and Manitoba, Canada offer single- and multi-day tours for travelers who are looking for a hands-on archaeological experience. Although travelers shouldn't expect to go home with an intact dinosaur skeleton, it's not unusual for participants to find pieces of dinosaur egg shells or petrified dinosaur droppings. As an example, The Museum of Western Colorado offers hands-on dinosaur dig tour packages.
3. Helicopter Skiing and Snowboarding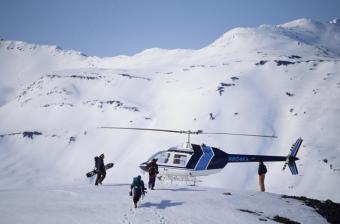 Adventure travelers and extreme sports enthusiasts who are bored with the regular downhill skiing and snowboarding experience may find just the thrill they're looking for in heli-skiing and heli-snowboarding, which is off-trail, downhill skiing and snowboarding that is accessed by helicopter. These travel packages are particularly popular in Alaska's Chugach Mountains, where multiple companies offer the services. One such company, Majestic Heli Ski Alaska, offers three-to seven-day all-inclusive packages.
4. Sea Kayaking in British Columbia
Located in the Pacific Northwest, British Columbia is a western Canadian province that boasts a particularly beautiful coastline. Sea kayaking is an enjoyable and intimate way to see all that the British Columbian coast has to offer. There are sea kayaking tours available that cover the entire coastline, as well as those that focus on specific areas, such as the Broken Group Islands and Clayoquot Sound. Bike Hike Adventures offers seven-day British Columbian sea kayaking tours.
Four Overseas Adventure Travel Destinations
Travelers looking to venture outside of North America for their next adventure vacation have no shortage of options.
1. African 'Big Five' Safaris
African safari tours and packages provide adventure-loving animal enthusiasts with the opportunity to see some of their favorite African animals living in their natural habitat. Safari travel packages are available at locations throughout the continent, from Tanzania's famed Serengeti Game Reserve to South Africa's Kruger National Park. Safari-goers can expect to see Africa's 'Big Five', which includes lions, leopards, elephants, rhinos, and Cape buffalo. The National Geographic Award-winning VoyageTrek offers multi-day safari packages.
2. Mountain-Climbing Expeditions
Climbing to the top of one of the world's tallest peaks can give adventure travelers a sought-after rush, as well as a deep sense of accomplishment. Mount Everest, located in Nepal, is a popular choice for adventure travelers and extreme sports enthusiasts and, at 29,035 feet above sea level, is the world's highest mountain. Napal Vision Treks and Expedition offers 16-day base camp excursions. At 19,341 feet above sea level, Tanzania's Mount Kilimanjaro is also popular with adventure travelers. Ultimate Kilimanjaro offers multi-day climbing packages.
3. Treetop Rainforest Experiences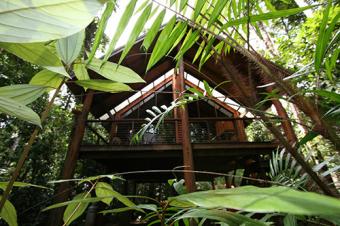 Set in 100 acres of rainforest in Australia's Cairns Highlands, The Canopy Rainforest Treehouses and Wildlife Sanctuary is an eco-certified rainforest luxury resort that boasts six magnificent treehouses and an on-site spa. Guests can expect to see a wide variety of Aussie rainforest animals during their stay, including rare Lumholtz tree kangaroos, endangered green possums and red-legged pademelon wallabies. The Canopy Rainforest Treehouses and Wildlife Sanctuary offers three-night vacation packages.
4. Machu Picchu Treks
Machu Picchu is a 15th-century Inca archeological site found in a tropical mountain forest in Peru's Machupicchu District. Thought to have been built as an estate for the Inca emperor Pachacuti, the site stands 7,970 feet above sea level and features the ruins of approximately 200 ancient structures. REI Adventures offers several guided, multi-day tours of the UNESCO World Heritage Site that vary in length and level of activity. National Geographic Expeditions offers a 10-day moderate to strenuous Machu Picchu trek.
The Expanding World of Adventure Travel
The adventure travel industry is booming, with tours and travel packages being offered in unique and interesting places all around the world. When it comes to planning an adventure travel vacation, you are limited only by your imagination.