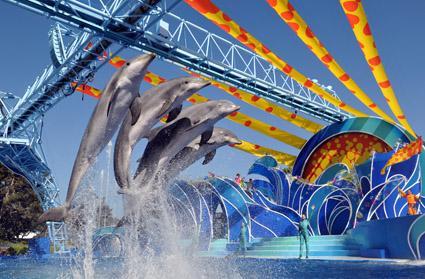 Vacationers hankering for a laid-back destination with blue skies, golden beaches and smiling locals need look no further than sunny San Diego. This Southern California metropolis is modern, diverse and filled with activities for the whole family.
Vacation Planning
Planning a trip to San Diego can be a breeze, thanks to the multitude of travel sites offering comprehensive vacation packages that include flights, hotels and car rentals. Here is just a sampling of what's available:
Orbitz Packages
Depending upon the time of year and departure city, travel sites such as Orbitz offer up to 35 percent savings on San Diego lodging and flight packages, including hotels priced as low as $50 per night.
SeaWorld Packages
SeaWorld ranks high on the must-see lists of many San Diego visitors, so it makes sense to take advantage of the discounts this hugely popular attraction can offer. The SeaWorld web site currently offers several packages to choose from as well as partner hotels and add as many tickets, tours and dining options as you desire.
TripAdvisor Packages
This great online source for accurate, reliable lodging and destination information and no-holds-barred reviews by fellow travelers is also a rich source for inexpensive San Diego options.
Best Time to Visit
San Diego's weather is lovely year-round, with plenty of sunny days and temperatures ranging from 60 to 80 degrees. Overcast skies in May and June are common, while August and September bring steady sunshine and warm ocean temps. October, February and March are off-peak months when hotel rates dip. If you're planning a July visit, be warned: Comic-Con International, an annual convention that attracts millions of visitors, sells out hotel rooms well in advance and sends rates skyrocketing.
Best Places to Stay
San Diego offers a wide range of hotels, motels, inns and bed & breakfasts to meet all kinds of travel needs and budgets. The San Diego Tourism Authority is a fine source of information and links to member hotels. Here's a sampling:
Hotel del Coronado
With its famous red turrets and Victorian architecture, the Hotel del Coronado is one of California's most iconic destinations. This historic resort offers old-fashioned glamour and sand-kissed splendor, making it very popular for destination weddings. The hotel is a must visit, even if you don't stay there.
Best Western Seven Seas
Located on Hotel Circle, this 300-room Best Western is a mid-priced hotel that's close to the airport and cruise terminal and convenient to most major attractions and beaches. The hotel offers park-and-cruise packages and additional discounts for longer stays.
Hotel Solamar
Part of the trendy Kimpton chain, the Hotel Solamar, located in the heart of the Gaslamp District, features a sleek pool terrace and hosted evening wine receptions. The hotel is pet friendly and features extras including in-room spa treatments and a 24-hour fitness room.
1906 Lodge at Coronado Beach
The romantic 1906 Lodge at Coronado Beach, ranked #1 in Coronado by TripAdvisor, is perfectly located a block off the busy main street and two blocks from the beach. Amenities include complimentary gourmet breakfast and afternoon wine and snacks.
The Grand Del Mar
Ranked the #1 San Diego hotel in 2013 by TripAdvisor, this luxury resort hotel combines Mediterranean charm with modern luxury, including a championship golf course, gourmet dining options and a five-star spa.
What to See and Do
Perhaps the toughest part of planning a San Diego vacation is choosing from the infinite options for attractions, outdoor recreation, dining, shopping and entertainment.
San Diego Zoo
One of the largest and most innovative zoos in the world, the San Diego Zoo sits on 100 acres in Balboa Park. It features a large aviary, large expanses of natural habitats, and the stars of the zoo, the giant pandas, particularly Su Lin born at the park in August of 2005. The zoo, established in 1915, is known for its African rain forest, large free-flying aviary, a tundra polar bear exhibit, and Koala bears in their own Eucalyptus forest. Visitors to the zoo can take a wild African safari or even a hot air balloon ride over the animal exhibits. In December, the park transforms itself into a winter wonderland with thousands of twinkling lights, visits with Santa, carolers, and up-close encounters with exotic animals.
Wild Animal Park
The Wild Animal Park has hundreds of acres of preserve land for wild animals from around the world. You can walk to see smaller animals or take a tram through the plains of Asia and Africa to see hundreds of rare species. The park is committed to breeding and conservation and offers an enjoyable, as well as educational, experience for all ages. If you plan to visit both the Wild Animal Park and the Zoo, look for the two-park ticket package for money savings.
Balboa Park
In addition to being home to the San Diego zoo, Balboa Park is a complex of gardens, museums, theaters, shops, and restaurants. Perched on a mesa high above the city, Balboa Park, founded in 1868, includes the San Diego Museum of Art, the Museum of Photographic Arts, the Reuben H. Fleet Science Center and its IMAX theater, and the Museum of Fine Art. Most of these buildings line El Prado, a wide promenade running the length of the park and are excellent examples of Spanish Revival architecture. Other highlights of the area include an authentic recreation of Shakespeare's Globe Theater and the Spreckels Organ Pavilion, which houses the world's largest pipe organ.
Coronado
Located just across from downtown San Diego, the city of Coronado is an exclusive enclave with beautiful white sand beaches, quiet streets, and luxury resorts. The narrow peninsula is home to the unique, red tile roofed Hotel Del Coronado, built in 1888 and featured in the film, "Some Like it Hot" with Marilyn Monroe as well as to the U S Naval Air Station. Visitors cross over to Coronado from downtown San Diego via the towering San Diego-Coronado Bridge or via ferry. Coronado has a village-like feel with quiet, tree-lined streets, stately old mansions, and 28 miles of beach.
Tijuana: "South of the Border"
Located just 15 minutes south of downtown San Diego, Tijuana is Mexico's fourth largest city and the gateway to the Baja Peninsula. Avenida Revolucion is the traditional tourist destination in Tijuana. It's lined with Mexican restaurants, pasajes (shopping arcades), and bawdy bars. At the end of the street you'll find the Palacio Fronton, a faux Moorish palace, fronted by an ornate fountain and home to fast-paced Jai alai matches. Locals and tourists alike gamble on this noisy, mind-boggling game. Tourists can reach Tijuana by car or on the San Diego trolley, which departs regularly from downtown. Before you go, you can check the US Department of State website to make sure that you have the correct travel documents.
The Gaslamp Quarter
San Diego's Gaslamp Quarter is a charming neighborhood within downtown San Diego and an essential part of any San Diego vacation. Named for the gas lamps that line the streets here, the quarter dates back to the 1890s. The sixteen-block area includes over one hundred restored original buildings that today house charming small hotels, restaurants, art galleries, boutiques, and vibrant nightspots and jazz clubs. San Diego's new ballpark, PETCO Park, is located just one block away as is the sparkling San Diego waterfront.
Legoland
From the makers of the world-famous brightly-colored interlocking blocks comes the amusement park: Legoland. While this park is appropriate for all ages, younger children are more excited by many of the attractions; there are only a few big thrill rides.
Sea World San Diego
No trip to San Diego would be complete without a day at Sea World. This park, owned by Anheuser Busch, combines rides and attractions with exciting sea animal shows, encounters and aquarium-style displays. The world-famous Shamu killer whale show is the highlight, but you can also see penguins, polar bears, an aqua-acrobat show, manatees, sea lions, otters, dolphins, octopi, ride a roller coaster or a river raft ride or pet rays and baby sharks.
Tours
One of the best ways to discover San Diego is to let a knowledgeable local show you the way. From historic Old Town to whale watching trips, brewery hopping or dinner cruises, San Diego tours are a great way to dig in to the diversity of the region. Some options include:
Whale Watching
Each year from December through April, more than 20,000 gray whales journey from Alaska to the warm waters of California. San Diego is an ideal destination to see these impressive giants. Adventure R.I.B. Rides offers fun, fast excursions on authentic Navy SEAL inflatable boats.
Deep-Sea Fishing
Whether you're a beginner or a veteran angler, the highly experienced crew of Point Loma Sportfishing guarantee you'll have a great trip.
Guided City Tours
Top offerings by Another Side of San Diego Tours include Segway® Tours of the Gaslamp District, Coronado and La Jolla.
Brewery Tours
Thanks to nearly 30 craft breweries, San Diego is a great place to sample small-batch beers. Enjoy a day quaffing a variety of award-winning local brews with Brewery Tours of San Diego, which provides round-trip transportation and knowledgeable guides.
Hiking, Biking and Kayaking
Hike Bike Kayak Sports is a San Diego tour company that offers unique outdoor adventures including sea cave kayaking, snorkeling with leopard sharks and guided mountain bike rides.
Best Places to Eat
For some of the best eats in San Diego, check out these local favorites.
Ranchos Cocina
Beloved by locals, Ranchos Cocina's two locations serve hefty portions of fresh, authentic south-of-the-border favorites, including many vegetarian options. Overall, customer reviews on TripAdvisor give this restaurant a nearly perfect rating.
Addison at the Grand Del Mar
The elegant Addison at the Grand Del Mar Hotel features a nightly four-course tasting menu and a world-class wine collection. This restaurant is highly regarded by Forbe's Travel Guide.
Cafe On Park
Just up the road from the Zoo, Cafe On Park is a casual eatery featuring breakfast and lunch, including its famous Cap'n Crunch Pancakes. Yelp reviews add up to 4 out of 5 stars.
Rocky's Crown Pub
If it's a burger you crave, Rocky's Crown Pub in Pacific Beach features some of the best in the city, along with a large selection of cold beers on tap. Google customer reviews give this restaurant an average of 4.5 out of 5 stars.
Island Prime/C-Level
Steaks and seafood with a creative flair are the go-to choices at Island Prime, perched on stilts atop San Diego Bay. The adjoining C-Level is a more casual waterfront bar and with sunset views of the San Diego skyline. Reviewers at OpenTable appear to be highly satisfied with their food and experiences here.
Your Best San Diego Visit
Whether you are visiting the city for business or pleasure, San Diego offers a wide variety of places to go and things to do. Plan ahead to make the most of your vacation.