Wacky Places to Visit
When you have seen all the regular tourist sites, it may be time to consider all the wacky places to visit in the United States. There are hundreds, if not thousands, of eccentric museums, stores and art displays to tour from coast to coast.
Umbrella Cover Museum
Dedicated to appreciating the "mundane in everyday life," the Umbrella Cover Museum is located in Peaks Island, Maine. It's a museum of umbrella covers, not full umbrellas. Notable features include a bullet proof umbrella cover and one made out of gum wrappers? The collection boasts over 600 items, but can only be viewed during the summer months.
The Chicken Store
The Chicken Store in Homestead, Florida, claims it is "the most famous chicken store in the world." It might also be the only chicken store in the world. It doesn't sell live chickens; rather it stocks chicken memorabilia, such as t-shirts, key chains and refrigerator magnets. Profits go to the Rooster Rescue Team, a volunteer group working to preserve the gypsy chicken of Key West.
Cadillac Ranch
No list of wacky places to visit would be complete without an art display. The Cadillac Ranch near Amarillo, Texas, doesn't herd cattle, instead it displays vintage Cadillacs half-buried in the ground. Visitors are quietly encouraged to paint graffiti on the cars.
Roswell, New Mexico
For an out-of-this-world experience, visit the alleged UFO landing site in Roswell, New Mexico. Try to make it during the annual Roswell UFO Festival, which features an alien costume contest, seminars and a parade. You can also visit the International UFO Museum.
Corn Mazes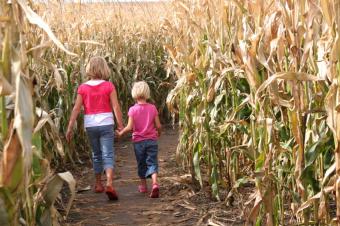 Do you like a good puzzle? If so, then you might consider trying to find your way out of a corn maze, or as many fans call it, a "corn maize."
These living puzzles are cut-out by farmers in a cornfield. You can wander around a good while before you find your way out. There's a corn maze in almost every state in the nation. It's quirky family fun at an affordable price.
Just the Start
There are many more wacky places to visit that are fit for the entire family. Some of them you may even want to add to your personal list of "Must See Places."