Vaccinations Needed When Traveling to Ecuador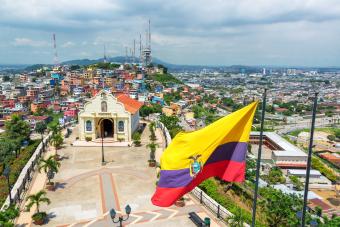 If you're headed to Ecuador (and/or the Galapagos) in the coming months, the Centers for Disease Control (CDC) has a recommended list of vaccinations travelers may need or want to consider. Make sure you look into these at least a minimum of four to six weeks before flying.
Routine Immunizations
The CDC has a standard list of routine vaccinations that travelers should ensure are up to date prior to traveling to Ecuador. Many of these were received as children while others are administered as adults.
Routine Childhood Vaccines
Typical routine childhood vaccines include:
Hepatitis B
Rotavirus
DTaP (diphtheria, tetanus, and pertussis)
Hib (Haemophilus influenzae type B)
Pneumococcal
Polio
Flu
MMR (measles, mumps, and rubella)
Chickenpox
Hepatitis A
Meningococcal
HPV (human papillomavirus)
Adult Routine Vaccines
There are some childhood vaccines that may need to be updated as an adult. Things like tetanus boosters are recommended every 10 years, and you may elect to get yearly flu shots. Routine adult vaccines may include:
Flu
Td (tetanus and diphtheria)
Tdap (tetanus, diphtheria, and pertussis)
HPV
Shingles
Pneumococcal
Meningococcal
Hepatitis A and B
Recommended Vaccines for Most Travelers
The CDC has recommended the following vaccines for most travelers to Ecuador, which includes those traveling on to the Galapagos Islands.
Typhoid: Contaminated water and food in Ecuador pose a risk for contracting typhoid. If you are staying with friends and family, visiting smaller cities or rural areas, or are an adventurous eater, the CDC especially recommends you get a typhoid vaccine.
Hepatitis A: Regardless of where you stay or eat, Hepatitis A is a risk in Ecuador through contaminated food or water sources. Hepatitis A is a viral liver disease that can cause mild to severe illness in patients.
Vaccines for Some Travelers to Ecuador
There are several additional vaccines that you should specifically discuss with your healthcare provider. The CDC notes that these may vary based on where you are going within the country, how long you plan to stay, what you will be doing, and whether you are traveling to Ecuador from another country versus direct from the United States.
Rabies: Rabies can be transmitted by dogs, bats, and other mammals; however, the CDC notes rabies is not a major risk to most travelers. They recommend the vaccine only for specific groups of travelers. These include those active in the outdoors in remote areas that would prove to be a higher risk for bites (like caving or other adventure travel), those working around animals during the trip, those on long trips or staying in remote areas of Ecuador, and children as they tend to play with animals and not report animal bites.
Yellow Fever: Yellow Fever can be a risk in certain spots of Ecuador, so the CDC recommends the vaccine for travelers who are nine months or older who plan to visit one of the affected areas. It's important to note that there is a government entry requirement of yellow fever vaccine if you are traveling from a country where yellow fever is a risk. The United States is not on that list, but a variety of other countries are on the 2018 Yellow Fever Virus Transmission Risk (YFV) Chart. These countries are within Africa and Central and South America. For example, if you are visiting Ecuador after spending time in Argentina or Colombia, you'll need a Yellow Fever vaccine if you are flying into Ecuador from there.
Hepatitis B: Travelers seeking medical treatment, planning to get a tattoo or piercing, and/or have the potential to engage in sex with a new partner are at risk for Hepatitis B. Hep B is transmitted through sexual contact, contaminated needles, and blood products. Hepatitis B attacks your liver and can cause both acute and chronic problems down the line for the infected person.
Malaria: Malaria is also a risk for travelers to Ecuador, which means you need to avoid mosquito bites. Malaria prevention requires you to take prescription medication before, during, and after the trip. It's best to talk to your doctor about the specifics of your trip to determine whether the malaria course is a necessity.
Zika Virus in Ecuador
As of December 2017, the CDC has Ecuador and the Galapagos listed as "Alert Level 2, Practice Enhanced Precautions" for Zika. The mosquitos that spread Zika typically live at altitudes of 6,500 feet and lower due to environmental conditions. Travelers who are visiting destinations in Ecuador that are above 6,500 feet generally face minimal risk.
There is no vaccine available for Zika, which is primarily transmitted by mosquito bites. Pregnant women should not travel to areas that have a risk of Zika as it can be passed to the fetus and cause serious birth defects. The CDC website specifically notes that pregnant women should not travel to any region of Ecuador that is below 6,500 feet.
It can spread not only through mosquito bites, but also through sexual intercourse. If you are pregnant and your partner is traveling to Ecuador, it's recommended to use condoms for the remainder of your pregnancy. If you're considering getting pregnant in the near future, talk to your health care provider about possible risks.
If you do travel to a Zika-infected region in Ecuador, wait six months to try to conceive after you return (or from the start of any symptoms) if you are a man or a couple traveling together. A woman, whose partner does not travel, needs only to wait two months after returning (or from the start of any possible symptoms).
Staying Healthy on the Road
Unfortunately, you can't always prevent every illness or injury while traveling, but you can take certain precautions to help reduce the risk. Make sure you pack preventative medications and supplies that may be invaluable. Items like diarrhea medicine, insect repellent, sunscreen, water purification tablets, antibacterial ointments, and motion sickness medicine are good items to keep on your packing list. And, don't forget to pack proof of your Yellow Fever vaccine if you're flying into Ecuador from one of the at-risk countries.